SQT® Revitalizing Beauty Set
SQT® Revitalizing Beauty Set
Efficacy
Improve skin texture
Nice skin tone
Refine skin
Fade melanin
Applicable Skin Type
Oily skin
Combination skin
Sensitive skin
Dry skin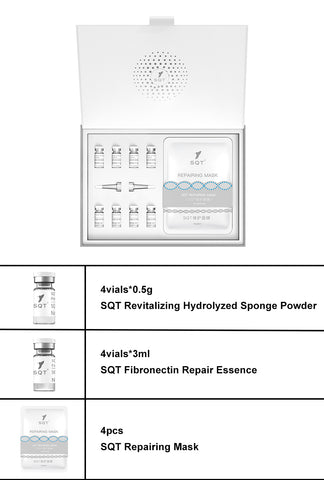 Net Wt: 530g
Treatment Interval:  
2 Weeks for Oily skin、Combination skin
3-4 Weeks for Sensitive skin、Dry skin
How To Use
Step 1st.
After cleaning the face, mix the Spongilla
Spicules powder and serum in a bowl properly.
Or put essence into Spongilla Spicules and shake and apply to the entire face evenly and softly
except for the eye area.
Step 2nd.
Gently press for 5-15 minutes to absorb
Spongilla Spicules deeply into the skin. Spray
moisturizing water on the face to avoid dry skin.
(For oily and combination skin, apply gently to
medium pressure for 10-15 minutes. For dry,
sensitive skin, apply gentle pressure for 5-10
minutes.)
Step 3rd.
Apply SQT Repairing Mask for 15-20 minutes
after cleansing the face with purified water.
Step 4th. After removing the mask, clean up with purified
water.