SQT®Recovery Beauty Therapy Set
SQT® Resurfacing Repair Set
Efficacy
Soothing and moisturizing
Improve sensitive skin
Activates the skin's self-healing ability
Improve skin's fragile barrier
Avoid melanin precipitation after treatment
Applicable Skin Type
Oily skin
Combination skin
Sensitive skin
Dry skin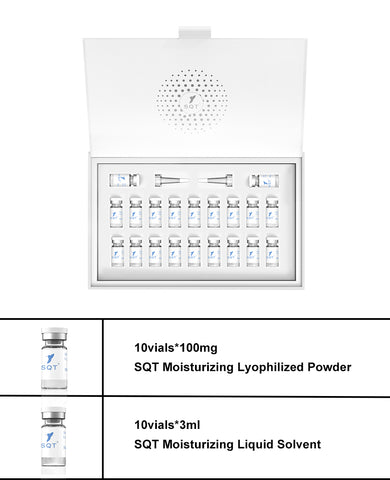 Net Wt: 380g
Treatment Interval:  
Sustainable
How To Use
Step 1st.
Take out a vial of SQT moisturizing lyophilized
powder and a vial of SQT Moisturizing liquid
solvent.
Step 2nd.
Find the arrow on the vial cap and follow the
arrow on the vial cap to open the vial cap.
Step 3rd.
Introduce SQT Moisturize
ing liquid solvent into
SQT moisturizing lyophilized powder.
Step 4th.
Put on the use accessories, shake it gently and
evenly, apply an appropriate amount on the face.
Use for 5 days after Spongilla Spicule Therapy or
other facial treatments, twice a day, before daily
skincare.