SQT® Anti-Aging Rejuvenation Set
SQT® Resurfacing Repair Set
Efficacy
Anti-aging
Smooth wrinkles
Firming and lifting
Improve skin elasticity
Remodeling and rejuvenating
Applicable Skin Type
Oily skin
Combination skin
Sensitive skin
Dry skin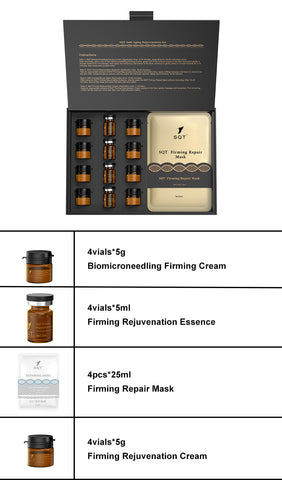 Net Wt: 600g
Treatment Interval:  
2 Weeks
How To Use
Step 1st.
After cleansing, take a vial of SQT
Biomicroneedling Firming Cream, apply half of the amount
evenly to the face and press gently in circular motions for 3-5
minutes, then apply the remaining half evenly to the face,
continue to gently press in circular motions for 3 -5 minutes,
then clean with purified water.
Step 2nd.
Take an appropriate amount of
SQT Firming Rejuvenation Essence to the entire face, apply a
lifting massage and leave to absorb into the skin, then repeat
the above actions until the entire vial has been applied, taking
approximately 10-20 minutes.
Step 3rd.
After using the SQT Firming Rejuvenation Essence, directly
apply the SQT Firming Repair Mask without cleansing. After 15-
20 minutes, remove the mask and clean the face with pure
water.
Step 4th.
Apply an appropriate amount of SQT
Firming Rejuvenation Cream evenly spread on the face, gently
massage until absorbed.
* The remaining cream can be used as a final step after your
daily skincare routine